About the Artist
Bio
Mark J. Adamany established Adamany Art & Design in Rockford, IL in 1994. Mark has always had the gift of art, although he never envisioned the direction or scale art would take his life. After graduating with a Bachelor of Fine Arts degree in 1990 from Rockford College, Mark began working as a graphic designer, but somehow knew there was something more on the horizon. In 1992, a local restaurant chain commissioned him for an exterior mural project which is still there today…the rest, as they say, is history
Today, his work can be seen in nine states, in a wide range of locations.From resorts and movie theaters, to restaurants and bars, private residences, commercial and industrial locations, and many more. Over the years, his work has earned over 12 international awards and numerous accolades, and has been featured over 3 dozen times in a variety of national & international publications. Adamany has also authored several articles on mural painting, and is also well known as a speaker and seminar leader on the topic of arts.
Mark's photorealistic painting style pulls viewers into the mural…the depth and detail found in his works is truly stunning. He seeks to paint images that "demand" attention…sharing his vision with the world. Almost entirely hand painted, each mural is a journey…one that is always an adventure both for the artist and the viewer.
Curious? Want to find out more? Contact us via phone or email on this site…we'd be happy to talk to you. Adamany Art & Design works with clients of all types, on projects of all sizes, across a wide budget range as well. From private residences to large commercial projects and everything in between, Adamany Art & Design does it all. Do you have a project or space in mind? Need to make a dramatic impact? Looking to set your business apart? Or just looking for a way to bring art on the grand scale to the people? Whatever your goals, whatever your needs, Adamany Art & Design has the experience, the creative input, and the proven ability to exceed your expectations, and transport your clients and viewers into a different time and a different place.
Studio
Adamany Art & Design is excited to unveil their new design studio in the heart of downtown Rockford. This new space was found by Mark Adamany in 2007, in very poor condition, but with a lot of potential. After many months of hard work with the help of dedicated friends and family, the new studio was opened for use in the spring of 2008. Featuring a large design and painting area complete with studio lighting, this new space allows Mark to work on many interior projects right in the studio directly on canvas rolls, which are then installed and finished on location. The studio also features offices, a conference area, and even a garage/shop for other art projects.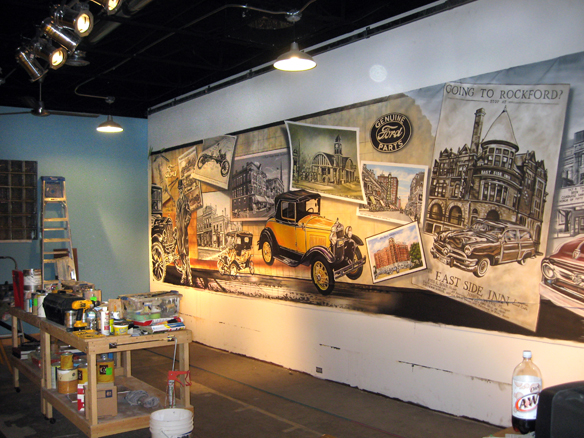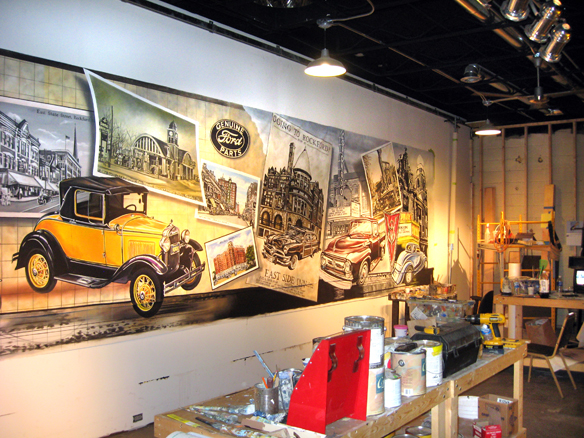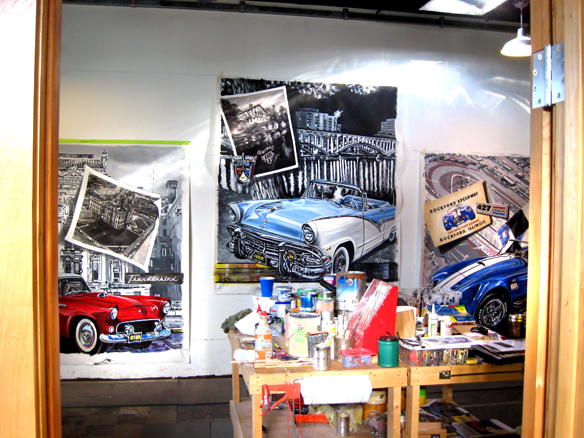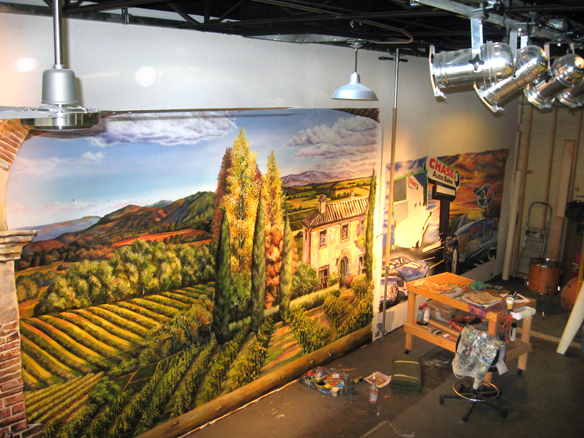 Process
One of the most frequently asked questions at Adamany.com, is "What is the process?" While each client and each project are unique,there is some common ground. First, at the initial meeting, Mark will evaluate the space and talk with the client about the project. Some clients already have a good idea of what they want, while others don't really know where to start. While a starting point certainly isn't required, having some sort of theme in mind is usually beneficial. Mark firmly believes that with all art...including murals...it is more about quality than quantity. Bigger isn't always better…it's all about impact...and finding focal points within the space.
From this point, the design process begins. Starting with a theme provided by the client, Mark will develop an idea, and then research and design a proposed piece. These proposals are scale digital prints of what the finished work would look like…often including context from the space the finished piece will be occupying. The design is modified and tweaked based on client input, and then finalized before the full project proceeds.
The actual painting process may take place on location, or it may take place in the Adamany studio. Most interior, vertically mounted pieces will be painted on canvas in the studio, and then installed on location when complete. Mark uses water based paints, mainly premium acrylics. Exterior and high wear areas receive industrial grade acrylics. Paint sprayers are only used for large basecoat areas…everything else is hand-painted. Mark's style is best described as realistic and dimensional, and hand painting allows him the feel and touch required to bring these grand scale artworks to life. Final install and time on location is kept to a minimum, to minimize the impact of a work in progress.